This week's entry: "My Waltzing Days Are Over" by the Innocence Mission.
I think I got dumped to this song.
It was given to me on the 3rd in a series of mixes by a guy who'd previously given me songs like Matthew Sweet's "Winona" ("would you be my little movie star/would you be my long-lost girl?") and Stevie Wonder's "Knocks Me Off My Feet" ("there's something about your love/that makes me weak") I had, in turn, responded with Van Halen's "Hot for Teacher" and The Magnetic Fields, "I'm Tongue-Tied." This went on for about two years until just after New Years in 2007, when he presented me with the 3rd CD, this time, minus the "love" next to his name.
There were two songs that said the dreaded words of every lover--"we can't keep doing this." Billy Bragg's "A Lover Sings" was a mournful lament to the sex we never had. The other, of course, was "My Waltzing Days are Over."
I am no fool, I have no romantic notions
In my head
at my age
I'm content to watch
If you haven't figured it out, he was a little bit older than me. I was his Manic Pixie Dream Girl. We drank black coffee and talked about Raymond Chandler novels and traded vintage paperbacks. He was the first person to tell me I was smart. To a 22-year old just out of a bad relationship, that was a hundred times better than even the most flowery "I love you."
And it didn't end quickly either. It ended slowly as both of us descended into our our age-respective misery. I didn't get into grad school. He didn't get tenure (which my mother said was my fault). We were both stuck in this miserable dying town and couldn't unite in our misery--so it became rubber bullets we shot off each other, bouncing back off the kevlar coldness we'd girded ourselves with.
I got it. We didn't have anything that could save either of us; he wasn't going to leave his wife and I didn't want him to. It was something beyond love or sex, it was just a connection . . . two lonely, frustrated romantics reaching out for each other. But waltzes have to end sometime, and, as the Wallflowers said, "It takes two to tango, but boy, it's one to let go."
God, I miss him. I miss having that connection with somebody. I hate that it had to end like that, drift off for no reason other than that it just didn't work. Bad timing, misalignment, whatever. He broke my heart because he let someone else give his explaination, and it's beautiful and haunting and perfect, but they aren't his words. And he's out there somewhere, maybe he found a new Manic Pixie Dream Girl, maybe he's miserable, I don't know. But what I wouldn't give to sit across an IHOP table with him one more time, share one more endless pot of coffee, have him play one more song for me.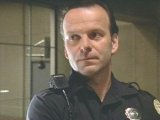 "My Waltzing Days are Over" is sort of indie so I don't have a video or anything to put with it. Instead, here is a picture of Robert Clohessy in
Oz
, who sort of looks like the guy who gave me this song.